CAST, BAND & CREATIVE TEAM
Music and Lyrics: Elvis Presley
Producer: Brian Hill
Musical Arrangements: Brian Hill
Musical Director: Clive Dunstall
Production Management: www.barisonsproductions.com
Casting: Barisons Management
Worldwide Tour Booker: www.barisonsproductions.com
Photography: Martyn Cummings and Mark Lea
Lighting Design: Dan Creasey
Orchestra: The Ultimate Performance Orchestra
Elvis Presley Performer: Pete Storm
Pete Storm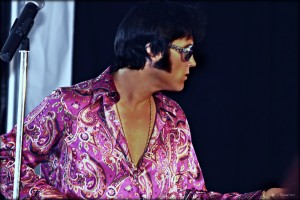 Pete Storm has been performing as an Elvis performer for over 8 years.
In order to train his voice to match the strength and stamina of Elvis', Pete sought professional singing lessons which helped him reach the large range that Elvis had.  After three years of lessons and constant practice, Pete's voice was strong enough to perform a whole Elvis show.  In 2011 Pete became the European Masters Champion, won the UK Images of the King Competition became the Collingwood Grand Champion, (Canada) and finally won the 'Images of Elvis` World Championships, in Graceland (Memphis, USA).  He is the only performer to have won all these titles within the same year.
Being one of the most famous Elvis performers Pete performs all over the world and has just completed a tour to Japan, Brazil and Australia.  Having performed with so many bands, Pete is now looking forward to performing with UKs leading Elvis orchestra in what is now considered Europe's leading Elvis show.
Brian Hill – Producer
Brian has worked as a trumpeter, musical director, orchestral fixer, musical arranger, band leader and producer on many shows over the past 10 years. Now focusing on Barisons Productions, Brian oversees every aspect of all the musical shows in their portfolio which tour the UK, Europe, Asia and the USA.  Current shows include Darius Campbell's The Greatest Big Big Band, The Definitive Blues Brothers, Glenn & Friends, How Lion Became King of Tinga Tinga Land, Andy Abraham's The History of the Big Bands, Sinatra Live at the Sands and ELVIS the Ultimate Performance.
 The Band
Kevin Wedrychowski – Trumpet
From an early age, Kevin laid the musical groundwork, playing guitar at home and learning three chords which would later constitute a large proportion of his professional career. Having taken up trumpet at 15, he became convinced that music would provide a fast path to fame and fortune, so turned down an undergraduate course in accountancy and decided instead to study jazz at an American university under the guidance of internationally renowned performing artist Arturbo Sandoval.
Kevin later realised that his average looks and easy-going temperament would never lead to superstardom, and now enjoys spending time in a theatre pit or on stage, keeping music live in support of genuine talent.
Greg Heath – Saxes
Originally from Auckland, New Zealand, Greg performed with the New Zealand Jazz Youth Orchestra in the early 80s. He then went on to study at the NSW Conservatorium in Sydney in the mid 80s under the tutorage of world renowned brass virtuoso James Morrison and Australian sax and woodwind legend Don Burrows.
Resident in the UK since 1989. Greg has toured and recorded as a sideman with a diverse range of artists both in the jazz and pop idioms including prominent UK jazz artists such as: Jim Mullen, John Etheridge, The Meier Group, Paz, The Hot Orange Big Band, Carl Orr and Coup d'Etat. Popular music artists include: Terence Trent D'Arby, Van Morrison, Alexander O'Neil, Omar, James Hunter, Curiosity, Stereo MC's, Marianne Faithful, Joan Armatrading, Ultramarine, Dave Mc Almont, Jimmy Ruffin, Jimmy Nail, Don E, Hamish Stewart and Geno Washington.
Graham Bolton – Trombone
Originally from West Yorkshire Graham began his musical journey with Haworth Brass Band and chose the Trombone as that was the only spare instrument available.

After Studying at the Royal College of Music in London with the highly respected Arthur Wilson he accepted an offer to work with the Royal Liverpool Philharmonic Orchestra. After returning to London he continued working in the classical genre with London and regional orchestras, English National Opera and Ballet, London City Ballet Orchestra where he was also Orchestra Manager.
On the lighter side of the business he's deputised in many West End shows including Cats, Follies, Sound of Music and The Kind and I. Combining his love of music with travel took the opportunity to work for Norwegian Cruise Line which he did for several years. Apart from this production he has also worked for Barisons on several other projects including their Blues Brothers and Sinatra at the Sands shows.
Clive Dunstall – Keyboard MD
Clive started his musical career playing trumpet and piano in the Royal Marines Band Service. During his eight and a half years in the Royal Marines he travelled extensively throughout the world, often on-board The Royal Yacht Britannia performing for Her Majesty the Queen and other members of the Royal Family. Since leaving the Royal Marines, Clive has performed, directed and been recorded in various musical genres including West End shows, Orchestras, Big Bands, Jazz Ensembles and various Commercial/Corporate events and in 2010 has performed and recorded for Sting with The Royal Philharmonic Concert Orchestra on his "Symphonicities Tour".
Clive Dunstall is best known for his work as a pianist and has played for many different genres of music from big band to concert work, solo piano to jazz trio. He has been a featured pianist with the BBC Concert Orchestra, played keyboards for artists such as Jack Jones, Michael Ball, Scott Hamilton and Sister Sledge and accompanied singers including Marlene Ver Plank, Katherine Gang and West End and top session singer Alison Jiear.
He has produced three albums of his own, including a recording of his vocal group, 'Clive Dunstall's Voxtet,' his debut jazz trio album, 'Notable Impressions' and 'Nightingales and Rainbows' with his wife, soprano, Mandy Watsham Dunstall.
Dominic Ashworth – Guitar
Dominic was born in Hamiliton, Ontario Canada. He studied guitar at the University of Toronto, Canada with Eli Kassner.
Dominic has toured and recorded with Carol Kidd, Michael Garrick, Julian Marc Stringle and Digby Fairweather's Half Dozen with George Melly and recently Paul Jones.
Dominic was awarded the Jazz Guitarist of the year at the Birmingham Jazz awards. He's now teaches guitar at Trinity College of Music.
His musical inspiration includes J.S. Bach, Duke Ellington, Charlie Parker, Paco de Lucia and George Benson
Alfie Carroll – Guitar
Alfie began his music career while still a sixth former aboard the band bus of space rock outfit Inner Vision, playing the summer festival circuit with the likes of Donnovan and Hawkwind.
After studying Jazz he formed his own band which played support to the  Average White Band, Tal Farlow, Ritchie Cole, Dick Morrisey, and Slim Gaillard.
After relocating to London he studied and gained a distinction at the London College of Music. During this time he was selected by Chris Evans for a role as MD on an episode of channel 4′s TFI Friday and became involved in recording sessions at Abbey Road for the EMI Classics label. While there he wrote and arranged a number of pieces including compositions for the Royal National Theatre.
Alfie has toured and recorded with avant guard artists such as drum wizard Seb Rochford and performed in big bands with top London swing singers Peter Grant and Iain Mackenzie.
Currently Alfie is playing guitar with platinum selling singer/recording artist Don Mescall who has received the award for international songwriter of the year 2012, as well as enjoying touring with Elvis the Ultimate Performance, where he gets the chacnce to learn and play all James Burton's famous guitar lines.
Phil Crabbe – Drums
Phil Crabbe is a freelance drummer mostly active on the London freelance/session scene.
His career began as a percussionist in H.M.Royal Marines Band, and along with his training at the Marines school of music.  Phil's musical education includes a stint at  Berklee College of Music (Boston, U.S.A),  The National Centre For Orchestral Studies  ( Goldsmith's  College, London),  a  performance degree in Timpani & Percussion from The Royal College Of Music  (A.R.C.M),  as an external student  – along with private studies with the following noted percussion/drum teachers; Dave Hassell (Manchester), Bob Armstrong (London) ,  Jim Blackley (Toronto, Canada) and Michael Skinner  (London).
Phil's  musical experience  covers a broad range of  styles  and genres ( both live and  studio), and his playing/recording credits include:
The National Youth Jazz Orchestra, Salena Jones, Gloria Gaynor, Petula Clarke, Cilla Black, Odyssey, The Nolans, Joe Longthorne, Haircut 100, Mica Paris, Ms Dynamite,  Joss Stone, Lemar, Mari Wilson, Heather Small (M People), Sabrina Washington  (Misteeq),  Beverly Knight, Lee Ryan (Blue), Paul Jones (Manfred Mann, The Blues Band),  Mavis Staples (soul/gospel star) The Ben Castle Quartet and The London Philharmonic Orchestra .
T.V  credits include;   French & Saunders, The Lenny Henry Show, Alexi Sayle's  'Stuff',  The Comic Strip,   Robbie Coltrane  T.V  specials,  Spitting Image,   Songs Of  Praise   and  London's Burning.  Along with numerous radio broadcasts, and commercial 'jingles'.
Frazer Snell – Bass
Biog coming soon.
Chantelle Duncan-Heath – Backing Vocals
London based Chantelle has backed the likes of Alexander O'Neil, ABC, Melanie C, Jamelia, Joss Stone, Bonnie Tyler, Brian May, Mica Paris, Roy Ayers & Nerina Pallot. A Previous winner of the Blackfriars Young Jazz Soloist of the Year title, Chantelle has performed all over the world in a vast range of genres, most recently with renowned world music band Berakah. She also sings regularly for radio, television & film
Rietta Austin – Backing Vocals
Originally from New Zealand, now based in London, Rietta Austin performs as a professional vocalist throughout the world.
With a four octave range, Rietta's vocal versatility is outstanding. As one of Australasia's leading vocalists, she is versed in anything from Jazz, Soul and R'n'B, to Pop and Rock.
Rietta has recorded backing vocals for Dame Shirley Bassey's as well as performing live with her at Glastonbury Festival. Rietta has headlined at the O2 Arena to 12,000 people and opened in Russia for Johnny Gill and Joe Cocker.  She was also chosen as the the London support act for Jocelyn Brown.
Rietta provided vocals on the title track for "Cats & Dogs 2", the Warner Brothers feature film and is currently writing with Mark Bell from "M-People".
Her link to the Elvis world is the work she has done with the The Jordanaires and D.J. Fontana.
Jimmy Cannon – Backing Vocals
Jimmy is a Singer, Multi-instrumentalist, Composer and Teacher.
Having studied Jazz Saxophone at Trinity College of Music, London, Jimmy performs professional worldwide with his own Swing Band the Jazz Cannons. Jimmy has performed and recorded with many fabulous musicians including:
The Commitments, The Pasadena Roof Orchestra, The Syd Lawrence Orchestra, and Tom Jones.
As a freelance musician Jimmy's vocals are regularly featured on TV commercials and he has recently recorded and written for Carlsberg, Bupa, Aardman and Moben Kitchens.
Johnny Amobi – Backing Vocals
Amobi has a powerful, rich, penetrating sound that washes over you in waves. Being of Nigerian/Scottish descent, his unique and diverse approach to music bears witness to a multicultural background.
Whilst being inspired by the sounds of Soul, Funk & Reggae on the streets of Camden, at home his Nigerian father was inspired with the music of Africa i.e. "Fela Kuti", "King Sunny Ade", "Baba Maal" and "Youssou N'Dour".
In his late teens he found himself following his passion for music and singing, winning a full scholarship (awarded by Cameron Mackintosh) to The London Studio Centre Institute of Performing Arts. Within two years he had landed a principal role in the West End production of "Miss Saigon," followed by further principal roles in "Carmen Jones" and the acclaimed "Five Guys Named Mo" andMotowns West End hit Musical 'Dancing in the Streets'
Aside from his extensive West End credits and live music tours, Amobi has been featured artist on Television and Film commercials for products such as Pringles, Just Juice, TDK, Skittles, Toyota and Mercedes Benz.
Other credits include his work for the award winning documentaries "Journey to the Moon" and "Flight over the Equator", both for ABC Network and a featured Single on "BBC" concept album produced by George Martin.